I got a chance to meet James Cameron this week. I told him I liked
Dark Angel
,
while I was having my photo taken with him. There, you can see me saying out of the corner of my mouth.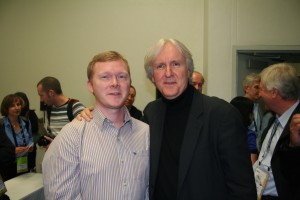 I do love Avatar. I've seen it once in AMC's fake IMAX theater in 3D. I want to see it again soon. This week, it has become the highest grossing film of all time in terms of actual dollars. However, it is not even close to being the highest inflation adjusted grossing film of all time. Right now,
Avatar
is #21 and
Titanic
is #6. Adjusted for inflation, the highest grossing film of all time is actually
Gone with the Wind
currently at over $1.5 billion, followed by
Star Wars
at $1.3 billion in today's money. These numbers are well over double Avatar's earnings of $603 million.
Though it doesn't benefit me at all, I am rooting for Avatar to approach those numbers. If Cameron can keep the magic of this new franchise alive, the rumors are that this movie is the first of a trilogy. My hope for any sequels is to not allow familiarity with the characters to interfere with making two more great films. Star Wars balanced this fairly well with its first sequel, Empire Strikes Back, but lost much of its magic since. Here's to the hope of continued high quality entertainment from James Cameron!