Wednesday, January 09, 2019
Thursday, December 13, 2018
This morning, while walking Tobzilla along a main interior road, a man in his twenties drove his white car out of a rotary in my direction in the far lane. I only took a glance at this vehicle, then diverted my attention back to the act of walking my dog.
Hmmm, I get a weird feeling, so I look back at the now slowing white car. The man has his window down and seems as though he's trying to get my attention. When we make eye contact, he announces to me, "There's a box back there", as he points off into the distance behind his car.
Without missing a beat, I yell back, "Alright!" in a tone that suggests ambivalent interest. The man appears to be satisfied that he dutifully notified someone of this extremely important information. He drives on his way.
He has indeed accomplished his mission, as I'm mildly curious regarding the presence of a box. Is there something in the road that poses a risk to other drivers? Is it a dropped package on the side of the road that was supposed to be delivered to a neighbor's home? Why would this man be so concerned about a box "back there"?
Remembering which way he had entered into the rotary, I turn around to walk in that direction to look for this mystery box. Tobzilla resisted at first. He knows our regular route. After a brief protest, he relents to walk by my side.
I see nothing out-of-the-ordinary. There's no box on this or that side of the road, nor within the lanes. Then, as I round the corner to walk down another street in the direction of my home, I see it. I see the only thing out of place. It's not a box.
It's a lonely shopping cart abandoned on the side of the road, across the street. I look around with more intent to see if there was anything else even remotely nearby. Nothing.
Now, a thought came into my head that may be a leap in logic, but not necessarily an illogical leap. Was the object about which this man was so earnestly trying to warn me not a box at all? Rather, was it this shopping cart? If so, why would this guy care so much about something so innocuous? Did he hit it with his vehicle? Did he already move it out of the way? Did he have a brainfart, referring to this cart as a box?
I will never know. After realizing there really was nothing of interest and no good-citizen task being demanded of me, I lead Tobzilla back home. One thing is certain. I am now in possession of a completely useless bit of information. This is too heavy of a burden to bear on my own. I must now share this goofy experience with the world.
Sunday, November 11, 2018
Posted by

Matthew Lorono
at 11/11/2018 10:27:00 PM
No comments:
Links to this post


Monday, March 13, 2017
It's one those mornings where I pay cash for some breakfast and the math works out to this:
Check = $6.42
Cash = $7.02 (five dollar bill, two dollar coins and two pennies)
and the change you get back is $1.43.
Being the guy that I am, I don't attempt to just take the extra 83¢. Knowing that something is seriously wrong since there's a dollar bill and 3 pennies in my change, I immediately notify the cashier that something is wrong.
The cashier tells me she thought the two dollar coins were quarters. Of course, that meant that the change she should have given me based on this mistake was 10¢, not $1.43. So, the manager comes over to help out. At first, he insists that my bill was $6.52 (the change that the cashier thought I tendered). I had to correct him twice. He finally figures it out, takes the change back and hands me 50¢. I don't know where everyone learned math, but that isn't quite right either. After correcting him one last time, I finally get back my 60¢ change.
That will learn me not to pay cash!
Posted by

Matthew Lorono
at 3/13/2017 08:30:00 AM
No comments:
Links to this post


Tuesday, March 07, 2017
While running around L.A. with Allie after SOLIDWORKS World 2017, I was approached twice over the weekend in early February.
We were
queued
for a ride at an amusement part. The guy behind Allie and I got my attention and asked, "Are you in a recent movie? I feel like I've seen you somewhere." Now, if I had been such a D-list star that someone kinda recognized me but didn't know for sure, I might have been mildly insulted. But, as it turns how, I am not a star. I'm just a guy that
gets mistaken for other people
from time to time. Instead, I'm mildly amused. Sorry, no point in getting a photo with me or having my autograph.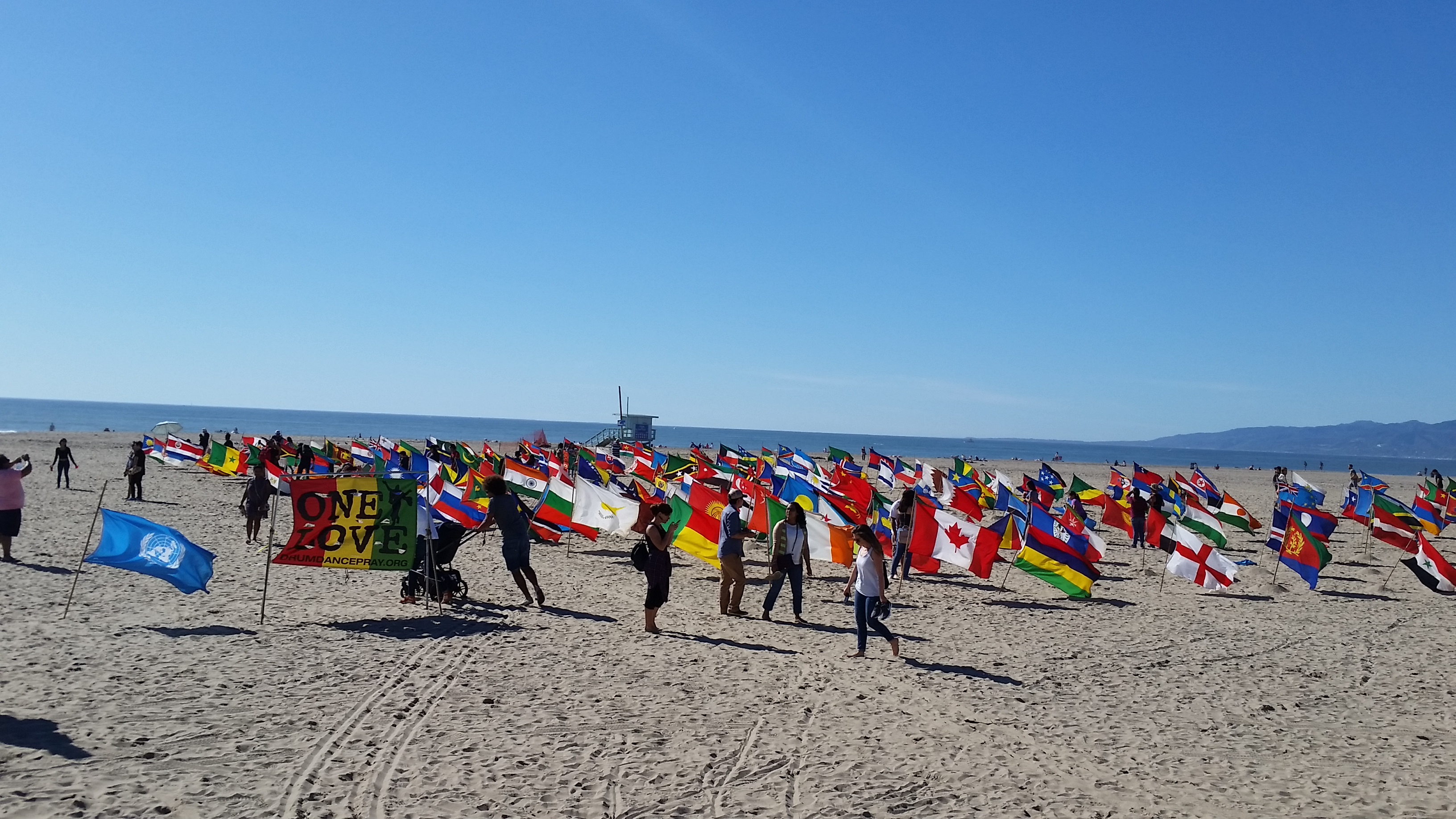 The next day, Allie and I were walking along
Venice Beach
. We had just spotted
Emma Roberts
on the walk down to the beach, but she looked busy on the phone as she rushed into a wardrobe trailer. Anyway, down on Venice Beach, this one guy road up to us on his bike. He didn't recognize me so much as he recognized the shirt I wore. It was a
t-shirt from SOLIDWORKS World 2017
. He is a SOLIDWORKS user who didn't get to go to the conference this year even though it was in L.A. The conversation was pleasant, but soon enough, Allie and I were on our way down the beach again.
Of course, as an employee of Dassault Systemes that supports the development of SOLIDWORKS products, I expect to be approached at the SOLIDWORKS World 2017 conference. However, SOLIDWORKS is well enough known that anyone wearing the company shirts or even t-shirts will be approached from time to time just for that alone. I actually try to avoid wearing the actual company shirts when travelling or attending any nonwork event. You'll never know when someone will approach you to talk shop, not that I mind all the much. It's just nice to keep the universes separate when I'm out with my wife or focused on getting somewhere.
Posted by

Matthew Lorono
at 3/07/2017 05:53:00 AM
No comments:
Links to this post


Thursday, December 08, 2016
Posted by

Matthew Lorono
at 12/08/2016 02:55:00 PM
No comments:
Links to this post


Saturday, October 29, 2016
I've been to Dallas, TX twice this year, now. Both trips were for business. The first trip was for
SOLIDWORKS World 2016
. I'm always very busy for each SOLIDWORKS World convention, so there's not much time to explore on my own. This time around I was attending
ASME Y Committee
meetings. I was able to do a bit more exploring, but not much.
While wondering around, I found this eyeball. Even many locals don't seem to know that this thing exists and that it is in Downtown.
I also visited the Reunion Tower again to get some great photos of points of interest in Dallas.
There were a number of good restaurants that were enjoyed on various days, such as
Wild Salsa
,
TruFire Kitchen & Bar
and recent local favorite
Hard Eight
.
On thing to note is that it's not easy getting around the Dallas area without getting dinged for tolls. In the week I was there, I racked up almost $20 in tolls by just driving around between places I needed to be. That is a bit annoying, especially since I have my navigation app set to avoid tolls.
The weather was great, particularly so far along into Fall. I didn't need a jacket or long sleeve shirt at any time.
Due to a sudden opening in my schedule, I did find some time to visit
Arlington Museum of Art
. I found it moderately interesting, but overall it was a bit underwhelming. The most interesting works I found there were by
Charmaine Locke
, but not much was available to view.
Posted by

Matthew Lorono
at 10/29/2016 12:02:00 AM
No comments:
Links to this post


Sunday, October 02, 2016
Welp, today was a bad day for a couple of Subaru owners.
Death-defying u-turn
The first instance happened this morning near the bottom of a shallow hill on a two-way, two-lane road with rapidly moving traffic. A maroon-color Outback rapidly pulls over to the shoulder. The Outback is full of people and luggage, including stuff tied to the roof rack. Cars immediately following the Outback braked to avoid a collision, with a couple of them swerving briefly into the lane of opposing traffic. Dust was kicked up a dozen feet into the air. But, that's not all! The lady driving the Outback activates her left turn blinker just as Allie and I approach in our car. All of a sudden the lady veers back into the road at a sharp angle, with her front left fender heading straight for our front right fender. Allie honked and swerved into the opposing traffic lane to avoid the collision! The lady barely stopped in time to miss us. Fortunately there was a gap in the traffic on the opposite lane into which we could veer. Just as we passed, she continued her sharp turn into the lane and across into the opposite lane. She cut out in front of the car that was immediately behind us.
Then she proceeds to make a full u-turn right in front of on-coming traffic in the opposing lane. Traffic moving in both directions had to slam on their brakes to avoid being hit by this lady. I'm sure she left a
phantom intersection
in her wake. When I looked back, I saw a field of brake lights as we continued on. After a few cuss words were uttered by Allie, I stated, "that the lady was driving like
Clark Griswold
". "Yeah, [more expletives], Griswold!" Allie appreciatively replies.
Bang, crumble, bye-bye bike
Roof-racked bicycle might've looked
something like this before being
mangled beyond recognition.
This afternoon, as I was walking Tobzilla around the apartment complex near the parking garage, I hear the sound of metal crunching. I turn just in time to see a Subaru with a roof-racked (apparently expensive) bicycle being torn a part as the driver drove under the height restriction bumper. The bumper was a large, red, round and heavily constructed pipe that was mounted to the entrance ceiling. Conveniently, the bumper had the garage's height restriction boldly printed upon it. The Subaru would've been fine without the racked bicycle. But, the Subaru had a racked bicycle. The driver drove clean through and didn't stop until fully inside the garage. The crunching sound coming from his roof didn't appear to be enough to deter him from continuing. He stopped a few feet passed the bumper, and a few seconds too late.
The expensive looking bicycle was no longer a bicycle. I mean, there was still kinda two wheels, but it was a mangled mess. The roof rack was also a mangled mess. The roof rack being attached to the roof of the Subaru likely suggests that the Subaru's roof was also damaged to some extent.
At this point, the driver still doesn't exit his car. I think he was stunned. He finally pulls into a nearby parking spot. He still waits a considerable amount of time to get out. Maybe he was surveying the damage to the roof of the Subaru from the inside? When he finally gets out, he just stares at the mangled mess where his bicycle and roof rack formerly existed.
In what I thought to be a quiet voice, I made a comment, half to myself, half to Tobzilla, "That's an expensive mistake". Despite the distance between us, the driver, who appeared to be of the more laid-back early-twenties variety, looks over at me and just yells "Fuck!". I could do no more than to reply with a consoling "Yup!" and continue on my way with Tobzilla.
It's been one of
those
days.
Thursday, September 15, 2016
I received the remainder of my
Microsoft Anti-trust Settlement
the other day. It was roughly $5. I received the bulk of my settlement funds well over a decade ago. I'm not really sure why I was owed an additional $5, though for some reason this amount didn't surprize me. The amazing thing is that yet again, Microsoft knew my current address; this time my personal address. It is literally 13 years later from my previous refund check, and 15 years since this odd saga began in 2001.
Previous Post, September 30, 2003

Posted by

Matthew Lorono
at 9/15/2016 08:30:00 AM
No comments:
Links to this post